Information on Salamiou Village
Salamiou Village                                                                      Photo © CyprusExpat.co.uk
Salamiou Village is located in the Paphos District of Cyprus. The village lies close to Mesana, Kelokedara, Arminou, Agios Ioannis and Filousa Villages.
Archaeological objects found in the village area date back 2,000 years and the village acquired it's name, according to legend, to being a small representative village of Salamis for travellers.
The village is built at an average height of 650 metres above sea level. The location of the village was chosen to provide protection from attack from the marauding pirates that frequented the area. The village is nestled among the Troodos Mountains which protects the village on three sides and the height gives a panoramic view of the Xeros and Diarizos river valley below.
Salamiou Village is suffering from a declining population, as with most villages in Cyprus. The village was the 5th largest village in the Paphos District as recently as 1950. The 2001 census recorded the population at 255 permanent residents and the decline of the population continues, with the population now at around 160 people.
The lure of employment in the tourist and construction industries available in the cities, mainly Paphos, Polis and Limassol, has seen the gradual decline of the youth leaving the village. Education has also played a part, with further education based mainly in Paphos. The old school on the outskirts of the village has recently started to attract students again by offering part time courses.
The fertile land surrounding Salamiou Village, along with the regular water supply, helped the village to prosper with the cultivation of vineyards. The grapes were mainly processed into wine, as well as the traditional Cypriot Palouze and Soutzouko sweets. Zivania, the local Cypriot alcoholic drink, was also produced from the grapes, but this was mainly for local consumption. The surplus grapes were either sold in the surrounding village markets or in the nearby cities.
The cultivation of vineyards slowed dramatically with the Cyprus government programme to pay land owners to stop cultivating vineyards, as the supply of graped exceeded demand. The land owners were encouraged to cultivate other crops, which were also easier to harvest due to the lack of farm workers. Salamiou Village has only one winery now and the village has a small cottage industry cultivation carob and almond trees.
Salamiou Village was the first village in Cyprus to provide a day care centre for the elderly. The K.A.P.I.P. day care centre began operating in 1983 and serves Salamiou Village, as well as the surrounding villages of Mesana, Arminou, Trachypedoula, Agios Ioannis and Kelokadara. The elderly people are given refreshments and entertainment and acts as a social meeting place. The centre also delivers hot meals to elderly people in Salamiou and the surrounding villages.
The annual Salamiou Village Palouze Festival is held on the last week of September.
The Agias Varvara (Saint Barbara) Greek Orthodox Church dominates the village, built in the centre of the village on a small hill overlooking the village and the surrounding areas.
Salamiou Village                                                                      Photo © CyprusExpat.co.uk
Salamiou Village                                                                      Photo © CyprusExpat.co.uk
Salamiou Village                                                                      Photo © CyprusExpat.co.uk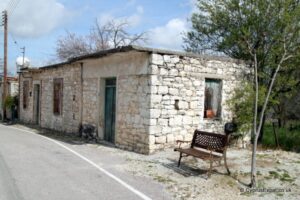 Salamiou Village                                                                      Photo © CyprusExpat.co.uk
Salamiou Village                                                                      Photo © CyprusExpat.co.uk