Information on Praitori Village
Praitori Village                                                     Photo © CyprusExpat.co.uk
Praitori Village, also known as Pretori Village, is located in the Paphos District of Cyprus. The village lies close to Kedares, Filousa, Agios Nikolaos and Arminou villages.
The village is built at an average height of 630 metres above sea level. The height of the village was ideal for the cultivation of vineyards and the black grapes are the source of income for the village.
The population of the village has risen since the 2001 census, when their were only 53 permanent residents recorded. The figure now stands at 95 permanent residents living in the village. The village was a mixed village, with Greek Cypriot and Turkish Cypriot residents. The population of the village is now predominantly Greek Cypriot residents.
The name of the village is subject to many legends, but the most plausible is that the village acquired it's name from the ruler of the village at the time, which was King Pretorian.
Praitori Village                                                    Photo © CyprusExpat.co.uk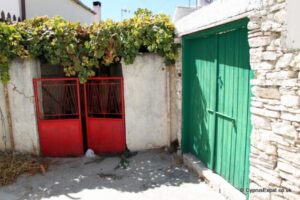 Praitori Village                                                    Photo © CyprusExpat.co.uk