Information on Pelendri Village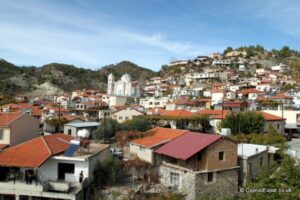 Pelendri Village                                                Photo © CyprusExpat.co.uk
Pelendri village lies in the Limassol District of Cyprus, at an altitude of 800 metres above sea level. The villages nearby are Potamitissa, Amiantos,Dymes, Kato Mylos and Agros. The village is a short distance from Limassol, around 45 kilometres.
Pelendri village dates back to medieval times and was once the administration centre for the Pitsalia region. It is situated in a valley with three sides being dominated by high hills. The village is built on two levels with the centre comprising one level and a higher level, reached by a steep road.
Pelendri Village                                                Photo © CyprusExpat.co.uk
There are many versions of folklore relating to how the village acquired it's name. The most popular and most likely, is because of the large forests surrounding the village. Many trees in Greek translates to Polydendra, which over time changed to the present Pelendri.
Pelendri Village                                                       Photo © CyprusExpat.co.uk
The village has never had a problem with water and the ample rainfall has helped the village prosper through the ages. Pelendri has recently acquired it's own reservoir to help continue the tradition of agricultural products, wine making, Zivania production, olive oil, carob products and the local Cypriot preserved sweets.
The proximity of Limassol added to the wealth of Pelendri as many villagers used to travel to Limassol for work. There used to be 5 buses leaving for Limassol each day. This helped the economy of the village and enabled the expanse of the village, which you see today.
Pelendri Village                               Photo © CyprusExpat.co.uk
The population of the village is more than one thousand people, making Pelendri one of the largest villages in Cyprus. The village location is ideal for people living in Limassol to own a second home there. The village is busy at the weekends with family visits and weekend breaks. The height of the village is also an attraction in the summer to escape the summer heat and humidity in Limassol. The cool fresh mountain air is a welcome relief.
Pelendri Village                                                Photo © CyprusExpat.co.uk
Pelendri village is also famous for The Church of Timios Stavros (Holy Cross) which was built in the 12th century. In 1985 the church was inscribed onto the World Heritage List of UNESCO, one of the nine Byzantine churches included on the list located in the Troodos Mountain areas.
Pelendri Village                                                Photo © CyprusExpat.co.uk
The village is best viewed by walking around, but beware, there are some very steep inclines. Visitors will still see the many old traditional stone village houses, built from local stone, with their old wooden frames. There are also many ruins which will give you a glimpse of how the villagers lived in earlier times.