Information on Pano Arodes Village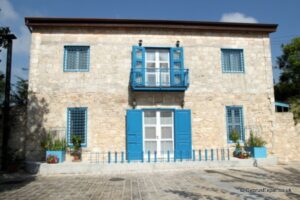 Pano Arodes Village                                                      Photo © CyprusExpat.co.uk
Pano Arodes Village is located in the Paphos District of Cyprus. The village lies close to Kato Arodes, Drouseia, Ineia, Kritou Terra and Kathikas villages.
The village is built at an average height of 600 metres above sea level, on the scenic Laona Plateau, next to the Akamas Nature Park and the spectacular Avakas Gorge.
Pano Arodes Village is one of the two villages that form the Arodes Village Community, the other being Kato Arodes Villages, a couple of kilometres away.
The village acquired it's name from the Knights of Saint John of Jerusalem, who were the rulers of the village during 1500 AD till 1522 AD. The knights were based on the Greek island of Rhodes, hence the adopted name of the village.
Pano Arodes has a steep history as an agricultural village, with the surrounding fertile soil producing a variety of crops. The village had an abundance of vineyards, which produced the local wine, Zivania, as well as the popular Cypriot sweets Soutzouko and Palouze.
The village also has many olive trees, producing high quality olives used in the production of olive oil. The large production of olives required the support of two olive mills, one in Pano Arodes Village and the other in Kato Arodes Village.
Carob trees were also in abundance, named the black gold of Cyprus. The height of production of carob syrup has long since passed, it was used as a sweetener for chocolate and other sweets, and now it is produced mainly for personal consumption.
Whilst there has been a decline in the carob production, the grape and olive production still thrives, but to a much lesser extent than in previous years. The grapes and olives are sent to nearby Kathikas Village for processing.
Pano Arodes Village suffered from a large earthquake in 1995, which measured 5.9. The earthquake caused large scale damage to the village, with many homes completely destroyed, with many more suffering severe damage. The earthquake caused the death of two villagers and seriously wounding many more.
The current population of the village is around 120 people, with an even split of local Greek Cypriots and people who have purchased homes in the village from a variety of countries. The village has suffered from a declining population for many years, as the younger residents leave the village to find further education and employment elsewhere.
The local education consists of the younger students attending junior schools in nearby Kathikas and Polemi Villages, with the older students attending university in Paphos. Paphos is also the major draw for employment, providing far more year round opportunities than in the village.
Pano Arodes Village                                                      Photo © CyprusExpat.co.uk
Pano Arodes Village                                                      Photo © CyprusExpat.co.uk
Pano Arodes Village                                                      Photo © CyprusExpat.co.uk