Information on Omodos Village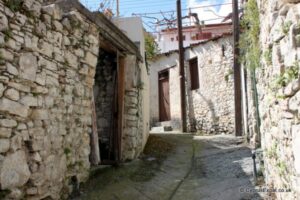 Omodos Village            Photo © CyprusExpat.co.uk
Omodos Village, also spelt Omodhos, is situated in the Troodos Mountains and is in the Limassol District of Cyprus. It is 900 metres above sea level and is in the centre of the wine making region of Cyprus. Limassol is only a 30 minute drive away.
The most famous attraction of Omodos is the Monastery Of The Holy Cross and the village is built around the monastery. The large unique plaza in the centre of the village leads to the monastery. The Monastery Of The Holy Cross, which has it's traditions dating back to AD337, is one of the oldest monasteries in Cyprus. The monastery is the guardian of a piece of rope which was used to tie the hands of Christ to the cross. The reason for many pilgrims to visit.
Omodos is also famous for it's wines. The Linos, a Cyprus wine press, an example of which is in the Omodos Wine Museum, was in use in medieval times in the village and is one of the oldest in Cyprus. Omodos is also famous for it's lace making and bread. You will be able to sample and purchase the traditional products in the many shops around the village.
The narrow streets leading off from the plaza are where you will find the many traditional village houses still in use. There are also many houses renovated to a traditional village standard that are available for rent. You will also find many shops and tavernas in the winding streets, where you may purchase the locally made produce, wine and lace.
Omodos Village            Photo © CyprusExpat.co.uk
Omodos Village            Photo © CyprusExpat.co.uk
Omodos Village            Photo © CyprusExpat.co.uK
Omodos Village            Photo © CyprusExpat.co.uk
Omodos Village            Photo © CyprusExpat.co.uk
Omodos Village            Photo © CyprusExpat.co.uk