Information on the Asprokremmos Dam in Cyprus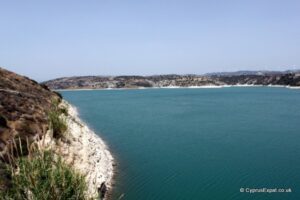 Asprokremmos Dam                           Photo © CyprusExpat.co.uk
The Asprokremmos Dam is located near Kouklia village and around 16 kilometres from Paphos. The dam is the second largest dam in Cyprus after the Kouris dam in Limassol.
The Asprokremmos Dam was the initiative of the Cyprus Ministry of Agriculture and Natural Resources – Department of Water Development. The construction of the dam began in 1978 and was completed in 1982.
The dam is built to a height of 52 metres, has a length of 600 metres and has a capacity of 51 million cubic metres of water. The dam is rarely full as the rainfall in Cyprus has not reached levels to see the dam overflow in recent times. The only time the dam did overflow was in 2012.
The dam does not allow any kind of water sports but does allow fishing. A fishing licence is required and only one rod is allowed per licence. Fishing is only allowed one hour before sunrise until one hour after sunset. If you are caught fishing without a licence, there is a heavy fine to pay and/or imprisonment up to 6 months.
The Asprokremmos Dam not only provides water for the nearby residents, it also provides an ideal place for a relaxing day out and is a favourite spot for picnics.