Information on the Chantara Waterfalls, which are located in the Limassol District of Cyprus
Chantara Waterfalls                                                     Photo © CyprusExpat.co.uk
The Chantara Waterfalls, also know as the Xantara Waterfalls, are located in the Limassol District of Cyprus.
Chantara Waterfalls                                                   Photo © CyprusExpat.co.uk
The waterfalls are reached by travelling along the Limassol to Platres road. Just before you reach Platres Village, you will find a village called Phini Village, also known as Foini Village, on your left hand side. A little further along the main road, on your right hand side, you will find a road which leads to the waterfalls. The road is just under 2 kilometres to the waterfalls, where visitors will find a free car park within a short walk to the waterfalls.
Chantara Waterfalls                                                  Photo © Cyprusexpat.co.uk
The Chantara Waterfalls are nearly 9 metres high and the top is reached by a path next to the stream. The waterfalls is a beautiful nature spot, with the waterfalls flowing all year long. The waterfalls are more dynamic in the winter due to the sometimes heavy rainfall in the Troodos Mountains areas.
Chantara Waterfalls                                                Photo © CyprusExpat.co.uk
There are no facilities for visitors and a bottle of drinking water is highly recommended, along with sturdy walking shoes.
The summer months have in recent years been very dry, due to a severe lack of rainfall, and this leads to forest fires. The Cyprus Forest Fire Service regularly has a vehicle stationed by the waterfalls as a precautionary safety measure for visitors.
Chantara Waterfalls                                               Photo © CyprusExpat.co.uk
You may find more information on Phini Village on our website here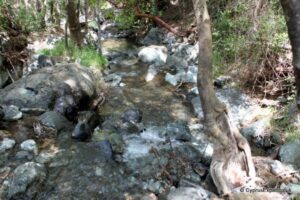 Chantara Waterfalls                                                Photo © CyprusExpat.co.uk