Information on Terra Village
Terra Village                                                                       Photo © CyprusExpat.co.uk
Terra Village is an abandoned Turkish Cypriot village located in the Paphos District of Cyprus. The village lies close to Kritou Terra, Choli, Skoulli, Goudi and Chrysochou Villages.
Terra Village is built high in the Troodos Mountains overlooking the Chrysochou Valley below. The village also has fine views of the Chrysochou Bay in the distance.
The village is protected from the severe weather by the Troodos Mountains, but the location was chosen primarily for the protection of the village from pirates, who frequently attacked the coastal villages. The height of the village offers a panoramic view of the Chrysochou Bay, which enabled the villagers to sound the alarm when pirate sailing ships were spotted.
Terra Village was a Turkish Cypriot village and the population was recorded at 329 permanent residents in 1973. The population of the village now consists of Greek Cypriot refugees and numbers around 5 families which permanently reside in the village. The village has a Mukhtar (the leader of the village).
The majority of the residents have left the village and have sought employment and education in the surrounding villages and the cities of Polis and Paphos, which lie close by.
Terra Village has kept it's old Cypriot architecture and charm, although many of the old village stone village homes lie empty. There are a few old homes which sadly have become ruins due to neglect.
The Terra Village Mosque lies just outside the village centre and has fallen into major disrepair, with many of the walls having collapsed. The mosque has been declared a dangerous structure with warning signs placed around the perimeters.
The old water fountain in the village centre is still in working order and offers fresh cold water direct from the mountain streams. The fountain was used earlier as a source of water for the village for consumption, the washing of clothes, irrigation for the crops and for the village livestock. The water fountain dates back to 1901.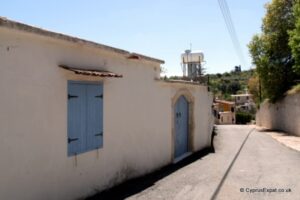 Terra Village                                                                       Photo © CyprusExpat.co.uk
Terra Village                                                                       Photo © CyprusExpat.co.uk
Terra Village                                                                       Photo © CyprusExpat.co.uk
Terra Village                                                                       Photo © CyprusExpat.co.uk
Terra Village Mosque                                                             Photo © CyprusExpat.co.uk