Information on Stavrokonnou Village
Stavrokonnou Village                                                     Photo © CyprusExpat.co.uk
Stavrokonnou Village is located in the Paphos District of Cyprus. The village lies close to Choletria, Old Choletria, Mamonia, Fasoula, Nata and Agios Georgios villages.
The village was traditionally a mainly Turkish Cypriot village, with very few Greek Cypriots living in the village. The village is now inhabited by Greek Cypriot refugees, who were displaced from their homes in the north of Cyprus, following the Turkish invasion in 1974.
The population of Stavrokonnou Village is around 100 people. The village has a history of being an agricultural village, and the same applies today. The cultivation of vines is the main source of income for the village. The grapes are sent to wineries in the area, with the surplus either sold in local markets or used for local consumption. Zivania is also produced from the grapes, and there are a number of distilleries to found around the village.
Stavrokonnou Village also has many olive trees, with the olives processed to produce olive oil. The surplus is either sold or used for local consumption. There are also almond trees and carob trees, with the carob syrup making a revival in Cyprus as a sweetener substitute for sugar in many products, in which the village hopes to exploit.
The village covers a large area, with many ruins from it's troubled past in evidence. The abandoned homes have also fallen into decay due to being unoccupied for many years, but also due to the lack of maintenance and essential repairs.
Stavrokonnou Village has no school, the nearest being in Choletria Village and Paphos for further higher education. Employment, other than in local agriculture is scarce, therefore the villagers have to seek employment in the local area or, as is often in the majority of cases, commuting to Paphos.
The village has a post office, a local Kafenion and a community park. There are also plans to improve the village infrastructure in the near future.
Stavrokonnou Village                                                     Photo © CyprusExpat.co.uk
Stavrokonnou Village                                                     Photo © CyprusExpat.co.uk
Stavrokonnou Village                                                     Photo © CyprusExpat.co.uk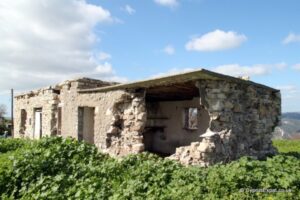 Stavrokonnou Village                                                     Photo © CyprusExpat.co.uk
Stavrokonnou Village                                                     Photo © CyprusExpat.co.uk