Information on Temvria Village
Temvria Village                                                                             Photo © CyprusExpat.co.uk
Temvria Village, also known as Temvrias Village or Tembria Village, is located in the Nicosia District of Cyprus. The village lies close to Korakou, Evrychou, Kaliana, Sinaoros and Galata Villages.
The village is built at an average height of 500 metres above sea level and is divided into three areas, Pano Temvria, Mesea Temvria and Kato Temvria.
The census of 2001 stated that the population of Temvria Village consisted of 540 permanent residents. The figure has dropped since then to around 400 permanent residents, with many people leaving the village to find employment and further education in Nicosia and Limassol.
Temvria Village always had a problem with an adequate water supply, so was unable to engage in serious agricultural production and livestock. The village had to share what water was available with other villages in the vicinity and rotas were established. The rotas allowed each village a certain period, namely days of the week, when it could irrigate their crops and collect water for their livestock and for domestic use.
The water supply was so valuable to the village, that legend states that a dragon used to guard the water hole. A dragon is positioned at a water hole in the centre of the village, dedicated to the legend.
Temvria Village survived through the ages by felling trees from the large forests surrounding the village. The villagers became skilled craftsmen as carpenters and produced a variety of hand made tools, furniture and other household items.
The village has three churches, Agia Paraskevi, Apostolos Andreas and Timios Stavros.
Temvria Village                                                                             Photo © CyprusExpat.co.uk
Temvria Village                                                                             Photo © CyprusExpat.co.uk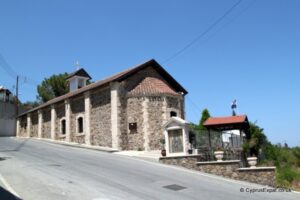 Agia Paraskevi Church                                                             Photo © CyprusExpat.co.uk
Temvria Village                                                                             Photo © CyprusExpat.co.uk
Temvria Village                                                                             Photo © CyprusExpat.co.uk