Information on Agioi Vavatsinias Village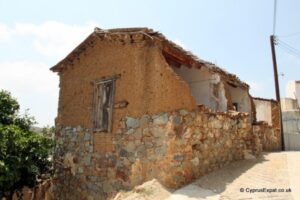 Agioi Vavatsinias Village                                            Photo © CyprusExpat.co.uk
Agioi Vavatsinias Village is situated in the Larnaca District of Cyprus and lies close to Vavatsinias, Ora, Melini and Akapnou Villages.
The village is built at a height of 750 metres above sea level, on the hills of the Macheras Forest. The hills offer protection against any severe weather conditions, and thus helped the village to grow many varied agricultural products.
Agioi Vavatsinias Village                                            Photo © CyprusExpat.co.uk
The village, according to legend, acquired it's name from the Vavatsinia, a local Mulberry tree. The fertile conditions also allowed the cultivation of many citrus fruit trees, olive trees, carob trees, fig trees and pomegranate trees.
Agioi Vavatsinias Village also has a steep history in it's wine production. The village has many vineyards, which produce wine for local consumption, the local winery, as well as other wineries in Cyprus. The village also has a thriving Zivania industry, made from the local grapes. The Zivania distilleries are to be seen in many of the village homes, as the production is mainly homemade.
Agioi Vavatsinias Village                                         Photo © CyprusExpat.co.uk
Agioi Vavatsinias Village is one of the largest supplier of embroidery in Cyprus, employing many local women to produce the famous Cyprus embroidery. The embroidery may be found in shops across Cyprus, especially in Lefkara Village.
Agioi Vavatsinias Village                                            Photo © CyprusExpat.co.uk
The village homes are mostly built from local stone, with wooden doors and windows. The roofs are angled and tiled in the terracotta colour favoured by most Cyprus villages. The narrow streets are steep due to the village being built on hills. The stone houses are built at an angle to follow the steepness of the hills.
The population of the village has declined over the years, with many of the younger villagers working in nearby town such as Larnaca which is only a short distance away, allowing for some commuting. The village has many weekend and holiday homes, and becomes visibly busier at the weekends and during festivals.
Agioi Vavatsinias Village                                      Photo © CyprusExpat.co.uk
Manos Loizos, the Cypriot composer, has roots in the village. The composer's father was born and lived for some time in Agioi Vavatsinias Village. His mother came from Greece, and Manos Loizos was born in Alexandria, Egypt. There is a small commemorative statue at the entrance of the village to honour the composer.