Information on Sykopetra Village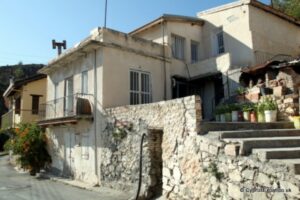 Sykopetra Village                                                 Photo © CyprusExpat.co.uk
Sykopetra Village is situated in the Pitsilia area of the Limassol District of Cyprus and is also close to the meeting points of two other districts, the Larnaca District and Nicosia District of Cyprus.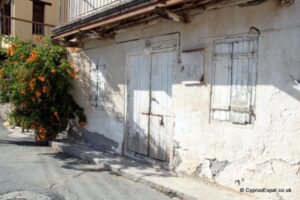 Sykopetra Village                                                Photo © CyprusExpat.co.uk
The villages lies close to Odou, Melini, Eptagoneia and Arakapas villages. The village is also close to the Prophet Elias settlement.
Sykopetra Village is built at an average height of 840 metres above sea level, which allows for a cool freshness in summer, but bears the brunt of the cold weather during winter.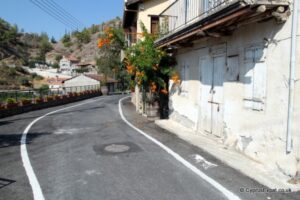 Sykopetra Village                                                Photo © CyprusExpat.co.uk
The village has a long history and the discovery of human remains, tools and other objects of the earlier inhabitants, date the village as being inhabited during the Byzantine period.
Sykopetra Village acquired it's name, according to the popular legend, from the many fig trees growing in the area. Fig translates in Greek to Syko or Syka. Rock translates in Greek to Petra, which is a reference to the very rugged rocky terrain on which the village is built.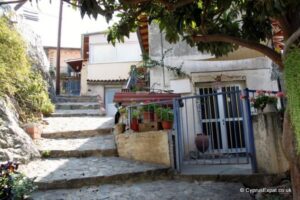 Sykopetra Village                                                Photo © CyprusExpat.co.uk
The village survived through the ages on agriculture, with the cultivation of mandarins being the main fruit produced. To a lesser extent there was also the cultivation of vines, with the grapes being processed into wine, with the surplus either sold or used for local consumption. Olive trees were also grown, with the olives processed into olive oil. The rugged rocky terrain did not allow for the large scale grazing of livestock, and this was therefore conducted only on a small scale.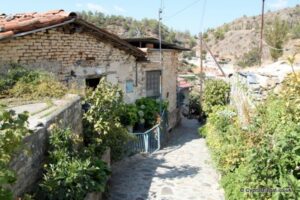 Sykopetra Village                                                Photo © CyprusExpat.co.uk
The population of Sykopetra Village has dwindled over the years to around 30 people, comprised mainly of elderly residents. The main reason being the lack of employment and education opportunities.There is more activity in the village at the weekends, during festivals, school holidays and public holidays, when the village comes to life.
Agios Dimitrios Church In Sykopetra Village                        Photo © CyprusExpat.co.uk
The Agios Dimitrios church dominates the village and is to be found in the centre of the village.
The village is built on the slopes of the Troodos Mountains, with the houses literally carved out from the hard rugged rock. The stone from the mountain was used to build the village homes, with thick walls for insulation. The doors, windows and beams were made from wood, from the abundant forest areas around the village. The red tiles used on the roofs were also made from local materials.
Sykopetra Village has not suffered from the large scale renovations seen in some of the other mountain villages. The village has manged to keep it's traditional character, with it' s few narrow streets, and houses built very close to each other.