Information on Vavla Village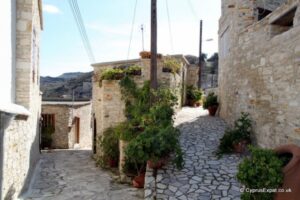 Vavla Village                                                                           Photo © CyprusExpat.co.uk
Vavla Village is located in the Larnaka District of Cyprus. The village is situated in the Maroni Valley and is close to Pano Lefkara, Kato Lefkara, Kato Drys and Lageia villages.
Vavla Village                                                                           Photo © CyprusExpat.co.uk
The small village has a current population of around 40 people, with many people returning at the weekend and during national and religious holidays. Larnaka is nearly 40 kilometres away, therefore some of the inhabitants commute daily for work and study. Residents of Larnaka also have second homes in the village.
Vavla Village                                                                           Photo © CyprusExpat.co.uk
Vavla Village can be traced back to the 1300's confirmed from documents of the period. How the village acquired it's name is still a mystery and there are a couple of local folklore legends, which do not really stand up to much scrutiny, but they do make very interesting stories.
Vavla Village                                                                           Photo © CyprusExpat.co.uk
The Vasilikos River provided the water supply for the village, which enabled the village to prosper through the ages. Vavla Village lies in a citrus producing region, producing oranges, lemons, mandarins and clementines in abundance, due to the fertile soil of the area. The village was also involved in the production of olives and carobs, both used for consumption and oil.
Vavla Village                                                                                Photo © CyprusExpat.co.uk
The village survives today in a number of ways, Agrotourism, local traditional lace embroidery and a thriving honey production. The abundance of flora and herbs in the area, especially thyme, has helped Vavla Village produce a very distinct type of honey of high quality, which is sold all over Cyprus.
Agrotourism in Vavla Village is helping to restore the village, along with the announcement that the village has been awarded a special status village in the form of a – Preserved Cultural Historical Location -.This means that the Cyprus government helps, with support and funds, to restore the old stone houses to their former glory, using the traditional wood and stone from the area. The architectural style and traditional look of the village remains, but more modern features are added inside, such as insulation.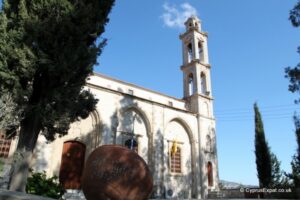 Agios Georgios Church                                                               Photo © CyprusExpat.co.uk
The popular all female Agios Minas Monastery, similar to a convent, lies just outside the village and dates back to the 15th Century.
There are three churches in Vavla Village, with the Agios Georgios (St George) Church being the largest and is situated in the centre of the village.