Information on Trimiklini Village
Trimiklini Village                                             Photo © CyprusExpat.co.uk
Trimiklini Village is located in the Limassol District of Cyprus and lies halfway between Limassol and Kato Platres village in the Troodos Mountains. The village is close to Lania, Dhoros, Monagri and Saitas villages.
The village is built in a large valley surrounded by the Troodos Mountains which gives shelter from extreme weather conditions and remains green for most of the year.
The position of the village enables the villagers to enjoy a long cool summer period, a welcome respite from the scorching Cyprus summer heat of the area. The winters are also relatively mild compared to the cold temperatures experienced in Kato Platres village, a small distance away. In earlier times, the mild climate was ideal for people to rest in the village whist recovering from illness, with very little fluctuations in the temperature for long periods.
The village dates back to the 15th century as some of the icons found in the Panagia Elousa church testify. The church was rebuilt in 1744 on the site of a previous, much older church. The local folklore states that the village was named after the Greek words Thermo Klimmi, which translated to mild climate, and was eventually toned down to the present name of Trimiklini.
The mild climate of Trimiklini Village enables the villagers to grow a wide variety of fruit and vegetables, the main source of income of the village. The village is also well known for it's grapes, which supplies many of the local wineries. A very well known local tradition of the village is also it's Zivania, the fiery and popular local Cyprus drink, which is still made in the traditional
Trimiklini Village Farmers Market                               Photo © CyprusExpat.co.uk
The daily Trimiklini Village Farmers Market is held in front of the Panagia Elousa church, along the main road dividing the village. The local farmers bring their freshly harvested seasonal fruit and vegetables to the market, which also includes many kinds of local preserved sweets, local honey and locally baked bread. There are 2 large free car parks for visitors next to the market.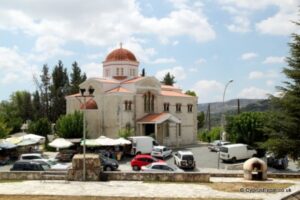 Trimiklini Village                                             Photo © CyprusExpat.co.uk
The irrigation water from the nearby Kouris and Saitas dams bode well for the farming community, but the draw to Limassol, which is close by, acts as a magnetic for the younger population seeking work away from farming. There are many villagers who commute daily to Limassol to work.
The mild climate is also a draw for people to own weekend and holiday homes in the village. The village is busy at the weekends, local festivals, name days and the summer holidays.