Information on Tochni Village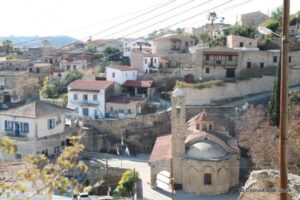 Tochni Village                                                           Photo © CyprusExpat.co.uk
Tochni Village is located in the Larnaca District of Cyprus about halfway between the cities of Limassol and Larnaca and lies close to the villages of Kalavasos, Psematismenos, Choirokoitia and Maroni.
Tochni Village                                                           Photo © CyprusExpat.co.uk
Tochni village is deemed to be one of the oldest villages in Cyprus with some of it's history dating back many centuries. There are Medieval and Frankish influences in the village, most notably surrounding the main church in the square.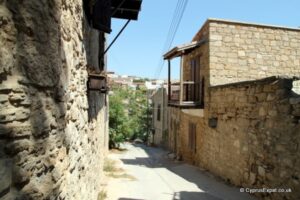 Tochni Village                                                           Photo © CyprusExpat.co.uk
The large Greek Orthodox Church of Saint Constantine and Saint Helena in the square, has been reconstructed on the original site of an older Saint Constantine and Saint Helena church. The church was originally built by Saint Helena when she returned from her crusade in the Holy Land. The church was built to house a piece of the Holy Cross, which she brought back with her. Saint Helena was the mother of Saint Constantine the Great.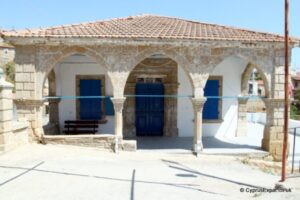 Tochni Village                                                           Photo © CyprusExpat.co.uk
There are the remains of an old Gothic church on a hill which overlooks the Saint Constantine and Saint Helena Church. The remains are heavily supported by new wooden beams, which help keep the monument in place. The church dates back to the 14th century when Tochni was under Frankish rule.
Tochni Village                                                   Photo © CyprusExpat.co.uk
The village survived through the years by quarrying the local porous stone and gypsum. The Marmara stone was used to make the floors of the houses, but the industry declined over time however. The village also grew agricultural products, but over the years, the low  rainfall in the areas surrounding the village made the farming industry unprofitable. This has resulted in people moving away from the village to seek work. The population has declined to around 250 people and many of these inhabitants are now mainly commuting to work in the neighbouring cities or catering to the new industry of Agrotourism in the village.
Tochni Village                                                           Photo © CyprusExpat.co.uk
The old river bed divides the village and the village houses are built in a horseshoe shape on the hills above the river. The history and tradition of the village is reflected in the traditional style of the houses. There is much interest in Agrotourism in the village and this has helped to restore the many ruins back to their formal glory. The restoration work has been carried out using the local stone and wood
Tochni Village                                                           Photo © CyprusExpat.co.uk
Cycling is very popular in the area and Tochni Village has become one of the main places of interest to stop and visit on cycle routes and tours